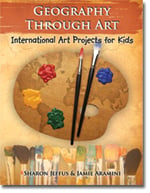 $

19.95
This book is a revision I've done of Teaching Geography Through Art by Sharon Jeffus. It makes a great companion to Eat Your Way Around the World. It contains art projects from dozens of countries, with new illustrations done especially for this edition of the book. The projects cover all skill and age levels. If you have the original version of the book, I think you will find the new edition a huge improvement, with a beautiful, easy-to-read layout.
"combines Sharon Jeffus' artistic vision with author Jamie Aramini's writing talents. While retaining the "heart" of Teaching Geography Through Art, the revision features a snazzier, easier-to-use layout, crisper type and graphics, and many additional extras."
—Rainbow Resource Center
"Since there are several projects per country, your family has the flexibility to spend a little or a lot of time on a country. The projects are interesting, and with the detailed instructions, everyone can have success."
—Homeschoolchristian.com
"This remarkable work is friendly to whatever your children's learning style or your homeschool philosophy."
—Eclectic Homeschool Online
This is a copy of the book autographed by Jamie Aramini. Shipping is 2.95 for your first book, each additional book with your order ships for free! If you would like your book signed to a specific name, please mention that in the "Notes to Seller" section as you checkout. Thanks!